Pitchers learn and develop different pitches, and they do so at varying stages of their lives and careers. It might be a curveball in high school, a cutter in college, or a changeup in A-ball. Sometimes the addition or refinement is a natural progression — graduating from Pitching 101 to advanced course work — and often it's a matter of necessity. In order to get hitters out as the quality of competition improves, a pitcher needs to optimize his repertoire.
In this installment of the series, we'll hear from three pitchers —David Bednar, Brandon Brennan, and Tony Gonsolin — on how they learned and developed their changeups/splitters.
———
David Bednar, San Diego Padres
"I never really had a great feel for a changeup. In 2017, after I first got drafted and was in instructs, I was kind of toying around with it when one of our pitching coordinators pushed me towards Hideo Nomo, who was one of our special assistants and helping out. The coordinator got me throwing in front of Hideo. He gave me a few pointers, and kind of switched up my grip in a way that worked better for me.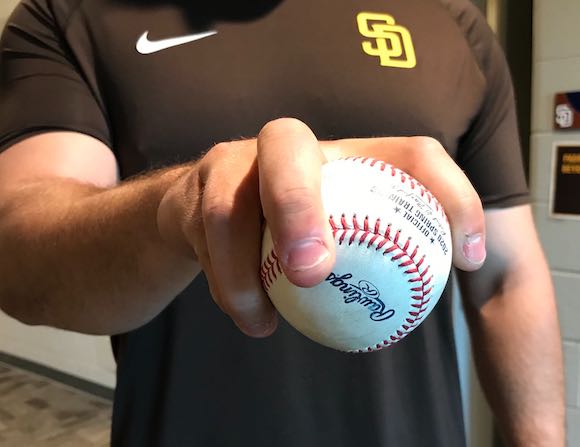 David Bednar's splitter grip.
"The grip is a slight variation [from Nomo's…
Read "David Bednar, Brandon Brennan, and Tony Gonsolin on Their Changes and Splits" at FanGraphs